Robert Strock and David Knapp, co-founders of the Global Bridge Foundation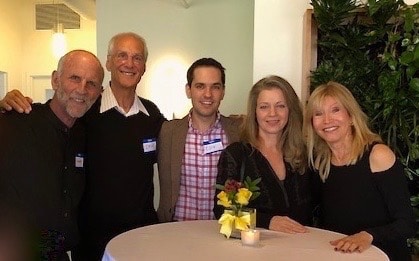 Ezra Levin, Indivisible Co-Founder & the Global Bridge Team: Robert Strock, David Knapp, Ezra Levin Shelley Pearce & Patricia Bisch
Our Roots
In the early 1970s, Robert Strock co-founded the Global Bridge Foundation. In its early days, the Foundation ran an innovative graduate school internship program at Beverlywood After Care Center in Los Angeles, CA. Support and therapy were provided to 135 schizophrenic patients, and a training program was developed for hundreds of psychologists-in-training that came from major educational institutions.
The Global Bridge Foundation Vision
To bring together innovative individuals, organizations and countries by supporting the equalization of economic and social opportunity, peace and survival of our world. This includes supporting self-sufficiency for the poorest populations and global warming.
The Mission of the Global Bridge Foundation
To work towards a more compassionate, peaceful world through offering strategic guidance and funding for self-sustaining programs. The Global Bridge Foundation is inspired by the following core values:
• We believe facilitating authentic communication between individuals and organizations is the best way to maximize potential.
• We believe in using monetary and other resources to create the maximum benefit to alleviate suffering.  
• We believe in bridging, coordinating and matching the best practices, individuals and foundations in any given area to benefit
   those in greatest need.
• We believe that trust is essential in every facet of human contact including actions, words, tone of voice, and intention.
• We believe in the dedication to accountability, transparency, and integrity in all our interactions and actions.