The power & necessity of combining community voices with peer evaluations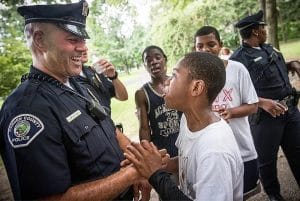 Our country needs a quantum leap in law enforcement evaluation with a structural change that addresses the gaping wound that exists between the police and the BIPOC communities.
It is not a time for small changes. Real reform that heals wounds and builds trust is needed to dignify and revitalize the vision of Martin Luther King, Jr.
One tool that has not been optimized is a confidential, ongoing peer review evaluation that ranks fellow officers and the chief in degrees of prejudice and racism as well as their ability to maintain an objective, neutral perspective under pressure.
Psychology of the In-Group
It is helpful to explore the psychological reason why this kind of common-sense approach hasn't been explored in spite of the historic and current suffering, racial injustice and brutality. Almost invariably, all groups are united by a sense of loyalty.
Loyalty to those who exist in our own "group" has a mass hypnotic effect, wherein it is difficult to see and act on behalf of the needs or qualities of people outside of the group.
Fear of Consequences
It is natural to wonder, "Who am I to evaluate my brother or sister? But to discern between protecting and serving life versus blind and misguided loyalty, we have to explore this question to prevent needless injury and deaths.
Police officers see firsthand the prejudice and misbehavior of fellow officers. However, for them to report the truths that reflect their conscience rather than a misguided loyalty, it is imperative to create effective and meaningful peer evaluation tools that preserve confidentiality.
Transforming Police Oversight to Include Peer Voices and Community Values
The following suggested framework consists of confidential police peer reviews and a collaborative oversight committee that includes community leaders, impartial third parties, elected officials and police chiefs.
Oversight committees have been a large part of law enforcement communities throughout much of the United States, more so since the 1991 Rodney King incident in Los Angeles. There are hundreds of oversight communities supported nationally and even internationally by The National Association for Civilian Oversight of Law Enforcement (NACOLE). However, these diverse bodies of oversight haven't had the benefit of ongoing officer peer evaluations to provide critical, firsthand information.
Building and Using a Confidential Review System
The peer review needs to be part of an objective rating system that evaluates prejudice. Each question on the review would add points toward a total score based on the equivalent to a 1 to 10 rating system. The oversight committee would determine the score percentage that requires discipline along with the corresponding disciplinary action.
Behaviors that would reduce points are those that demonstrate insensitivity to either those of different racial, religious, ethnic, and/or sexual orientations or due to peer pressure of higher-ranking officers and superiors. The use of racial slurs, expressions of a desire to harm minority communities and unnecessarily aggressive direct behaviors, for example, act as warning signs of deeper issues. Insensitivities may progress to more radical behavior that steadily and dangerously evolve into violence.
Racial slurs communicate an underlying sense of superiority over another race. A sense of superiority combined with a violent attitude becomes even more pronounced through verbal expressions of fantasizing of doing harm, which often indicate an anger that has distorted perceptions until harming another person feels like inflicting justice. Once that anger and aggressive behavior are directed toward a group as a whole, the perpetrating officer acts out the belief that each person of a particular racial group is more likely to be inferior and guilty.
Excerpt from full the article
To request the full article, please contact us here